Birst
When I graduated college, I was hired by Birst to create a suite of mobile apps from scratch. I have been the sole designer of the iPad, iPhone, Android Tablet, and Android Phone applications that Birst has to offer with the help and guidance of my manager, BC Borna. I am currently a Senior UI/UX Designer at Birst.
Birst Mobile received the highest product score in Gartner's 2016 and 2017 Critical Capabilities for BI & Analytics Platforms report. Birst also received the highest score, a 5 out of 5, for mobile in the Enterprise BI Platform category from Forrester Research in 2017.
Two Different Operating Systems
The challenge with this effort was that I had to design two applications that felt part of the same design family but still live in their own operating system that the user understands most. Learning to work with engineers with totally different limitations on design and capabilities was challenging at first. I had to make sure that a design fit for both operating systems and still keep our design language. This facilitated a large amount of collaboration not only with the iOS and Android developers, but also with a large number of people in our engineering department.
iOS
The iOS version was started a few months earlier to concept the basic design. We perfected a lot of early stage things and allowed for Android to speed up because of the APIs that were there from iOS. The grid layout was universal no matter what device and thats what we went with.
Android
With Android, we started with the Kit-kat OS and kept updating the app for each operating system to the present as much as we could. Keeping up the Android designs with iOS was difficult but I had a template with the iOS mocks to start with.
Birst Web Applications
A lot of the features in the mobile apps stemmed from the web which familiarized me with how the product worked. During the mobile development process, I would cross over to help the web team when there was time and a need. Below is a rundown of the products I helped create or work on.
Visualizer
Visualizer is the place to play with your data and create visualizations that can be saved and added to a Dashboard. You could create every chart type imaginable as well as full scale tables and maps.
Dashboards
Dashboards is the product that the mobile app consumed. A dashboard is created from a number of visualizer reports that would live on them. The customers would use them to get an overview of specific data points that the users would set up the dashboard to monitor. However, a dashboard is not limited to charts, It can also display web pages, KPIs, and buttons.
Pronto
Pronto is the tool we created in order to replace our old flash UI/UX. It's purpose is to create a star schema in order to link all of your data together from multiple sources. You could also prepare and relate it on the fly. It was a one stop shop to add data and link it to existing data.
Mobile Customer Success
Storytelling
Some of our mobile customers request us to add new features to the application. Some of the customers we work with have thousands of employees using our application daily and have new ideas for us to incorporate. We have this happen often and we make room to add the new features.
One of our additions requested by a customer was to add a powerpoint-like storytelling feature to the iPad app. This feature allows the user to create a flow of dashboards. The end of the flow usually points to a datapoint answer. The feature could be used by Pharma reps when visiting doctors to cater a story just for them to know just how many units of medicine the doctor will need.
Our customers are finding it easier than having to remember how they navigated through their dashboards to get to their correct answer while presenting. This is saving time by preparing information ahead of time in the app and making sure you stay on point during a presentation on the go or when the app is plugged into a TV. The sharing capabilities also help the user to receive reports from an admin user.
The Pronto Project
Pronto was one of the largest projects at the company in the last year. I must give credit to my design team members who were also a large part of the creation of this large project. They would include BC Borna, my manager, and Elsa Lin, my co-worker. We needed to create a new UX to replace our admin module. The main starting point was the data connectors and how to relate the data. The goal was to create a fluid user experience, in collaboration with many engineers and project managers, for a user to connect multiple data sources together and prepare them to visualize the data simply. We came up with three modules, Connect, Prep, and Relate.
In Connect, a user would be allowed to sign in to multiple different data sources including Salesforce, Google Analytics, REST connectors, or local files from your desktop. When linking to a service, the users would select objects (or data tables) that they want to pull in.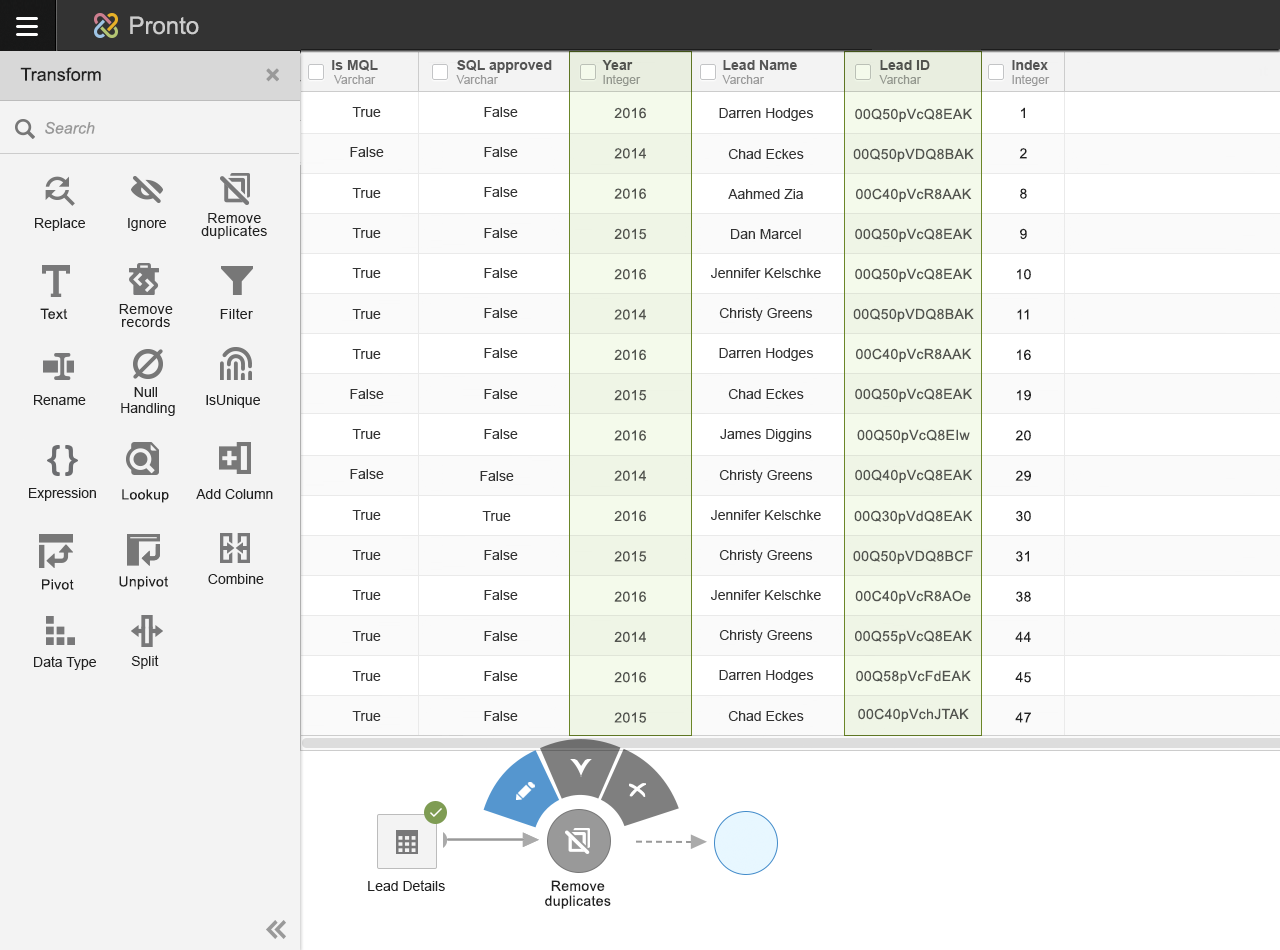 In Pep, The users would create new objects out of multiple other objects by connecting them together based on columns that match other columns. There are a multitude of tools that also have functions that can transform your data to be ready to be related.
In Relate, a user is shown a web of the new objects created from the prepare stage. It is up to the user to relate different objects similar to the Prep stage but this is displayed by drawing lines between the objects making sure you have the correct data sources connected.
After the Pronto stages are complete, the customers can visualize their data in Visualizer and them display them in reports with Dashboards 2.0. The Pronto project is still ongoing and is consistently being improved and iterated based on the feedback from our customers.
Specific Work Examples
1. iPad Dashboard Filters
3. iPhone Annotation Sharing
4. Pronto
Team: BC Borna, Elsa Lin